Your Certification Process
Once Teachable shows that you have completed reviewing 100% of the content of this course and AFTER you have practiced with enough practice clients for you to feel ready to go pro (feel ready to charge money, be listed on Julia's website, on your own platforms and record the podcast with Julia), you are welcome to proceed with the certification process.
This is what the Certificate looks like: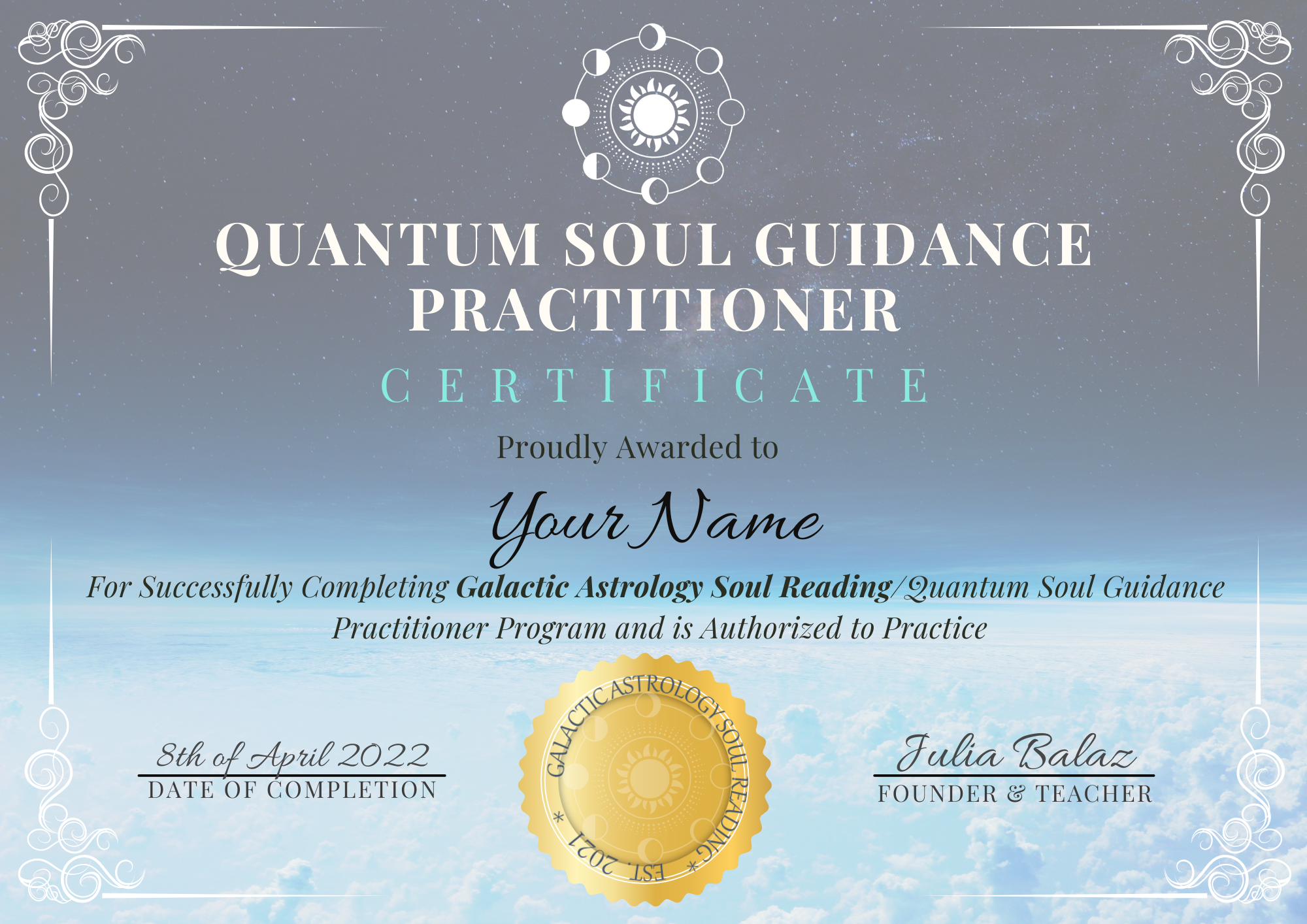 In order to receive your certificate, you will need to email me the following:
A proof of your three clients (Galactic Astrology Soul Readings) and their feedback.
This should be done by completing the attached document. *Teachable does not allow me to upload editable word format document so please send me a quick email asking for the word format certification request form and I will send it to you.
Once completed email it to [email protected]
Email Subject should be titled as follows: Course Certification Request for [Your Full Name]
Rename the word document as follows: [Your Full Name] Certification Request Form
You will also have to attach four pdf documents with GalacticAstroChart.com fixed stars alignment report for your three practice clients and yourself. Each form should be saved under the person's name.
Your contact details including your photo and a few lines to attract the right clients for the listing on Julia's website. See examples of others listing HERE.
You will receive your certificate within 5 working days with the date of your email to me on your certificate.
If you have any questions about this process, feel free to email me or leave your comment below.
PLEASE NOTE:
I reserve the right to delay your certification if I strongly feel that you are not ready to practice with paying clients based on your submission report notes. I doubt this will happen with any of you but, in case that happens, I will offer you further guidance and support towards you eventually reaching the certification point.
With warm regards,
Julia
Additional information addressed to students who took this course as newbies to astrology and soul reading.
You may need to practice with many more clients before you submit your certification, comparing to skilled astrologers and soul readers that enroll in this course (we have 50/50 newbies vs advanced readers in this program).
If I was a newbie, I can imagine I would want to do at least 20-30 charts before I even consider accepting money for my service. During this time, I would collect testimonials and constructive criticism from the practice clients, it is more valuable than money.
I remember I did so many free sessions when I started facilitating QHHT session and Soul Realignment sessions. And also with the galactic astrology readings, I looked at hundreds of charts before I accepted money for it. (To be fair, I had no intention at that time to do this as a service, it was just for my own learning and expansion.) You don't have to do hundreds of charts don't get me wrong here.
But as a newbie to astrology, you should see and read at least 20 charts or more. I can not stress the importance of more practice needed for newbies here opposed to those who already have experience with doing astrology readings professionally.
(20 is just my suggestion, you do what you feel is right for you, it can be more, it can be less.)
With each chart you will learn so much, the understanding of astrology will sink deeper and you will be able to use it going forward. So don't think of the delay in your certification as your disadvantage, it is quite the opposite. It will prepare you for an amazing start of your professional business with raving clients.
You don't want to start charging for money and receive negative reviews from your clients.
As a newbie to astrology and soul reading, please do not submit your first ever practice clients as part of your certification process. You will waste your time filing in the form and also my time. I will be able to tell if that's the case and I will have to tell you to go back to practice more and then re-apply again.
You should be able to tell by the way you conduct your practice sessions how ready you are to go Pro. You will just know when you get to that point. Your whole being will be elevated and you will feel a strong YES, I am ready to go Pro. At least that was the experience for me with each new modality I learned.
It is ok to struggle with the first few practice clients and to even get it wrong as a newbie. Always take those downfalls as your fuel to study more, and most of all, to go back to the lessons in this course. In fact, I would strongly advice all newbies to go through the course at least twice, and ideally, at least 3 times before you extend your practice clients beyond your family and friends.
You have a pool of available practice clients within the growing community of students of this course. Avail of it and practice, practice, practice. You can not rush this process and you can not compare yourself to others who were on the topic for years prior to this course.
You are going through this at a perfect time for you and you will become certified at a perfect divinely arranged time for you.
Don't stress yourself and just take your time. Enjoy the learning, enjoy practicing and visualize the excitement of the day when you receive your certificate and your first paying client. Your heart and soul will guide you towards that manifestation sooner than you think.
Certification Request Form.pdf
Complete and Continue